In order to understand the benefits of Lean Construction, we can look at what has been observed in the performance of the construction sector. Among the elements affecting the competitiveness of companies, the various studies reveal that customer dissatisfaction is closely followed by unmet deadlines, poor workmanship and accidents. Then come the overall costs.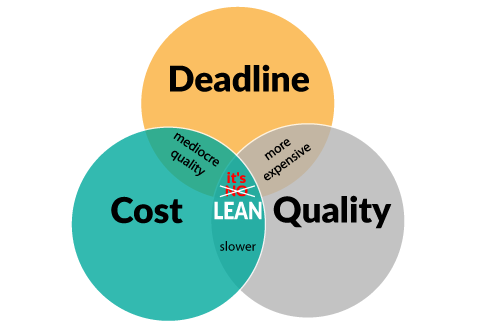 Studies also show that:
80% of projects are delivered late
10% of the turnover of the construction sector is spent on readdressing quality issues
30% of all work hours are avoidable because they produce no tangible result for the customer
98% of all mega projects go more than 20% over budget and past the delivery date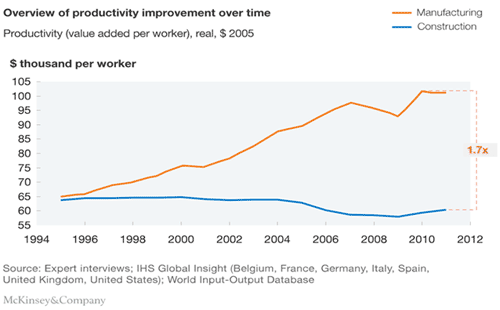 This situation in the operational performance of the sector, is widely visible on projects, and there are many symptoms:
Arduous working conditions: A worker walks between 7 and 10 km per day
Stress : A project manager is interrupted every 6 minutes, on the average
All of these elements, which negatively impact the image of a sector, are proof that for several decades, operational performance was not the main concern and that today: "It is an opportunity". And what if performance increased well-being, and what if quality went hand in hand with short deadlines, and what if productivity and security became a single factor.
Yet despite the context and these observations, it is often difficult to take the first step because the obstacles stemming from paradigms are strong:
Construction produces prototypes
"It's different for me"
The fear of change
However, to get around these obstacles, the lean must simply be adapted to each situation (select and adapt the tools to each phase of a project) and manage the change (train, convince, give it meaning, etc.).
In this context, Lean Construction optimizes performance by eliminating waste, both in terms of jobs (see example of improved performance in the installation of bleachers), and in terms of project management, for which controlling lead times is often the main concern (see example of a short lead time on a hospital residence).
Before the Lean: 5 bleachers/day - 10.5 km/worker. After the Lean: 11 bleachers/day - 7.7 km/worker. Example: bleachers. It is possible to increase productivity on a construction site and reduce the arduous nature of work with simple, inexpensive tools made collaboratively by the workers themselves.
Before the Lean: Anticipated lead time of 14 - 16 months. After the Lean: Actual lead time of 5.5 months. Example: hospital with a capacity of 80 rooms.
It is a matter of managing lost time, the poor use of common workspaces and resources (stocks, tools, etc.) as well as wasted human energy (arduous working conditions and poor management of difficulties which arise).
Beyond waste, Lean Construction strives to improve global performance (SQCD [safety/quality/cost/deadline]), that is to say, a performance which is not targeted on a limited objective.